RENTIO Toor Dals & Rice
At Rentio Foods, we believe that the essence of Indian cuisine lies in purity and authenticity. That is why we source the finest toor dal from the best farms across India and maintain strict quality control measures throughout the production process.

Our state-of-the-art manufacturing facilities adhere to international standards, ensuring that every grain of RENTIO toor dal reaches you with its natural goodness intact.

RENTIO Premium Desi Dal

Sourced from Pure and Natural Farms and processed with triple refined cottonseed oil for longer shelf life.

RENTIO Super Desi Toor Dal

Plain Desi Premium Dal sourced and processed naturally from the most pollution free terrains of India.

R PROTO

It is the classic Toor Dal sourced from local suppliers and made with standard process.

JOYFEST Indrayani Rice

Known as the Healthy Rice as it is an excellent source of vitamins and minerals like niacin, vitamin D, calcium, fibre, iron, thiamine, and riboflavin.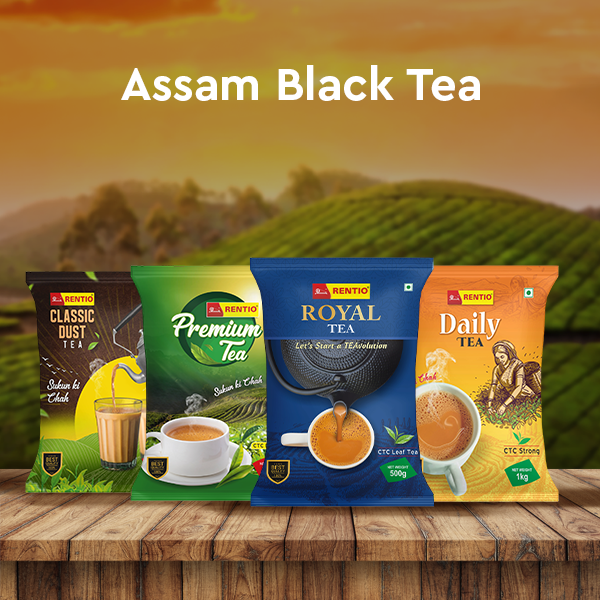 RENTIO Tea
Packaged with care to preserve its freshness and authenticity, Rentio Tea is a symbol of quality and commitment. Ideal for mornings, afternoon indulgences, or cozy evenings, this range of teas caters to every tea enthusiast seeking an unparalleled tea-drinking journey
Royal Tea

Indulge in the opulence of RENTIO ROYAL TEA, crafted with the finest handpicked tea leaves from exclusive estates around the world, this regal infusion promises an experience beyond compare.

Premium Tea

Experience the epitome of tea
perfection with RENTIO PREMIUM TEA, an exceptional blend offering a balanced and nuanced flavor profile. With each cup, revel in the harmonious interplay of aroma, taste, and color.

Daily Tea

Kickstart your day with the invigorating essence of RENTIO
DAILY TEA. Specially curated to
complement your everyday routine, relish the simplicity of life with the goodness of Daily Tea, a companion for your daily moments of solace.

Classic Tea

For those who appreciate the timeless charm of traditional tea, RENTIO CLASSIC DUST TEA is an evergreen choice. Rediscover the joy of simplicity with a cherished classic that warms hearts and brews memories.
Heat N Eat
A Pour-Heat-Eat Product Range for Millennial.
Heat N Eat for JAINs
Handcrafted to preserve Traditions.
RENTIO Organics
Naturally Cultivated Traditionally Sourced.